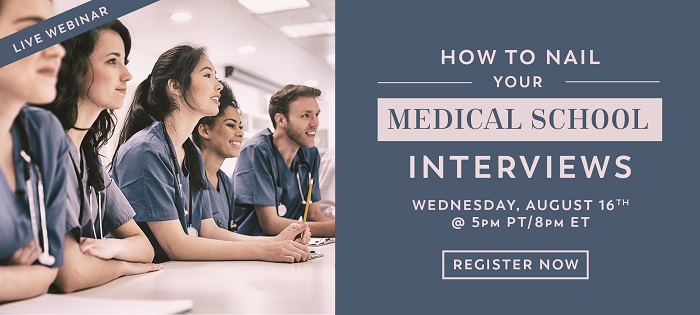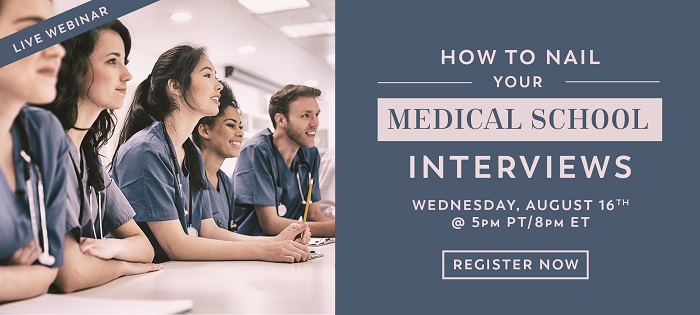 Your primary app is submitted and your secondaries are in. Each step in the application process is bringing you closer to your goal of med school acceptance and the next phase of your training, as you prepare to become a physician. The next step? The med school interview.
[Register now: How to Nail Your Medical School Interviews]
Getting an interview invitation is exciting, and rightfully so – it means that the school is impressed by your application and wants to get to know you better. For many people, once the exhilaration of the invite starts to fade, anxiety sets in: How can you prepare so that you'll have the best chance at impressing the committee on interview day? What is the committee looking for? What should you do – and not do – before and during your interview?
We know that preparing for an interview is stressful. That's why we've pulled together years of interview expertise into our free, one- hour webinar, How to Nail Your Medical School Interviews. Accepted med expert Cydney Foote will guide you through what you need to know to prepare for your interviews – and shine on interview day.
The webinar is free, but you must reserve your space.
https://js.hscta.net/cta/current.js //
The post Will You Be Ready for Your Med School Interviews? appeared first on Accepted Admissions Blog.
from Accepted Admissions Blog
https://blog.accepted.com/will-you-be-ready-for-your-med-school-interviews/